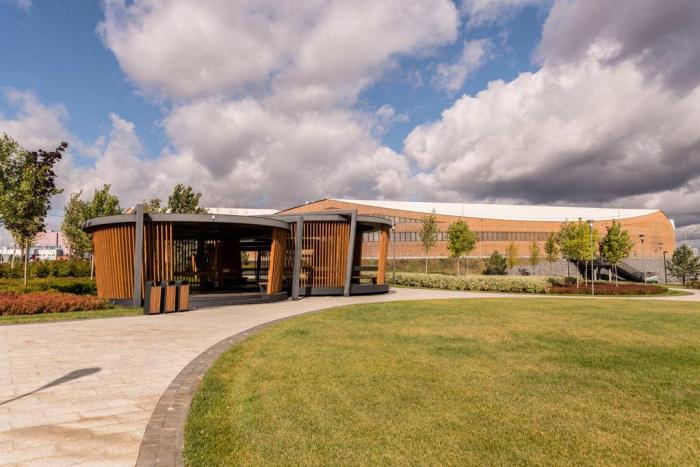 Materials Science
4 opiniones
Excelente gracias

Brunel is a very good university I think its just underrated.

It's the best university you can attend for it has a great campus, community, teaching style and much more.
Master
En Moscow (Russia)
Descripción
Tipología

Master

Lugar

Moscow (Russia)
Duración

2

Inicio

Fechas disponibles
Modern industry is in great need of professionals in materials science, ready to develop new materials and devices for application in renewable energy, consumer electronics, healthcare, and other areas. Our practical approach gives our graduates the opportunity to gain knowledge and skills for success in electronics, energy, chemicals, automotive industry, and other sectors.
Precisiones importantes
¿Qué objetivos tiene esta formación?: The MSc program is 2 years long: the first year is to strengthen your theoretical background, and the second year is to focus on research. Students have the freedom to choose courses and extracurricular activities to shape their individual trajectory, acquire soft skills, and gain entrepreneurial skills to prepare for job placement.
Our program provides broad and integrated overview of materials science and in-depth study of a particular problems of the industry. Our graduates will get all the necessary knowledge and skills to:
acquire hands-on experience in materials design and device prototyping and use it in their future career
communicate and function effectively within any research and industry multidisciplinary teams
apply knowledge of fundamental science and engineering to identify, formulate and solve complex materials and devices problems
use the techniques and modern technological tools necessary for engineering practice
design and conduct experiments, as well as analyze and interpret data


¿Esta formación es para mí?: Our graduates shape their own futures by choosing from a variety of career opportunities in industry, science and business:
Landing specialist positions in Engineering, Manufacturing and Support in various fields (batteries, solar cells, etc.), as well as Skolkovo resident companies and startups.
Landing PhD positions and continuing research at leading Russian and international universities and research entities.
Starting a business on their own or through the Skolkovo innovation ecosystem with its extensive pool of experts, partners, consultants and investors.


Requisitos: Bachelor's degree, or its equivalent in Physics, Chemistry, or Materials Science. If your education has not been conducted in English, you will be expected to demonstrate evidence of an adequate level of English proficiency.
Sedes y fechas disponibles
Bolshoy boulevard 30/1, 121205
Inicio
Fechas disponibles
Inscripciones abiertas
Opiniones
Yury Rodolfo Tomé Marincovich
Sobre el curso:
Excelente gracias
Curso realizado:
Junio 2020
¿Recomendarías este centro?:
sí
Student
Lo mejor:
Brunel is a very good university I think its just underrated.
Curso realizado:
Marzo 2018
¿Recomendarías este centro?:
sí
Student
Lo mejor:
It's the best university you can attend for it has a great campus, community, teaching style and much more.
Curso realizado:
Diciembre 2018
¿Recomendarías este centro?:
sí
Charles Belina
Lo mejor:
I chose to study at Skoltech because it allowed me to receive a world-class education, while also experiencing life in a foreign country. As a foreigner, Skoltech offered me this unique opportunity. Nowhere else could I live out my dream of living abroad in a cosmopolitan city like Moscow while studying at a top university. I enjoyed Skoltech because of the opportunities to work closely with my peers. Skoltech encourages collaboration and team projects, and as a student, you will often be working with students with different scientific interests than you. I know that exposure to their ideas left me not only a specialist in my particular field of study upon graduation, but also well-versed in the important issues in science today. I also enjoyed working on real-world problems. Skoltech teaches its students to make an impact, and this means that you learn how to create something that people can use. Although problem sets are a part of the curriculum, you will more often than not find yourself developing a physical prototype or coding an app.
A mejorar:
Nothing to improve
Curso realizado:
Noviembre 2018
¿Recomendarías este centro?:
sí
Materias
Entrepreneurship

Materials Engineering

Innovation

Property Development

Energy Management

Materials

Technology

Industry

Materials Management

Electrochemistry

Materials Chemistry

Material Technology

Photonics

Electronics

Storage

Data science

Materials Science

Solid State Physics

Organic Materials

Energy Generation

Structure of Materials

Device Physics

Technological Advance
Programa académico
Program structure:
The 2-year program comprises of compulsory and recommended elective courses on the most important topics, a wide set of elective courses (depending on the research and professional needs of the student), components of entrepreneurship and innovation, research activity and 8 weeks of industry immersion.
Compulsory and Recommended elective courses (36 credits)

Compulsory courses:
Survey of Materials
Materials Chemistry
Fundamentals in Methodology of Scientific Research
Recommended Electives:
Mathematics for Engineers
Introduction to Solid State Physics
Organic Materials for Electronics, Photonics, Energy Generation and Storage
Material Structure Characterization Methods
Electrochemistry: Fundamentals to Applications
Carbon Nanomaterials
Aerosol Science and Technology
Computational Chemistry and Materials Modeling
Structure and Properties of Materials
Advanced Materials Modeling
Advanced Solid State Physics
Materials Selection in Design
Fabrication Technology of Nanodevices
Composite Materials and Structures
Fundamentals of Additive Technologies
Nanocomposites
Research Seminar "Advanced Materials Science"
Elective Courses (24 credits)


Entrepreneurship and Innovation (12 credits)
Innovation Workshop
Ideas to Impact
Leadership for Innovators
Business Communication
Biomedical Innovation and Entrepreneurship
Intellectual Property and Technological Innovation
Technology Entrepreneurship: Foundation
Technology Entrepreneurship: Foundation
Product Innovation: User-centered & Iteractive Design Process
Technology Planning and Roadmapping: Foundation
Technology Planning and Roadmapping: Advanced
Technological Innovations: From Research Results to Commercial Product
Research and MSс thesis project (36 credits)

Industrial Immersion (12 credits)